---
---
LIFE AFTER
Written by Paul Landis Delaune
Iím a guy who loves professional football. Iím not talking about soccer, mind you. Iím talking about the
N-F-L. The National Football League. Just the thought of pro football sends tingles up my spine and
excitement into my brain. Itís a game of basic power. Raw power. One line of men going against another
line of men. Mano e mano. One man knocks the other on his butt or vice versa.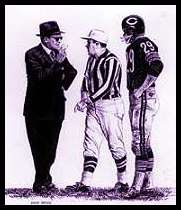 For me, pro football is a religion. Names like Jim Thorpe, George Halas, Norm Van Brocklin, Joe
Namath, James Brown, Don Shula, O.J. Simpson, Mean Joe Green, and Walter Payton are saints who
have gone before and helped shape the game into the competitive spectacle it is today.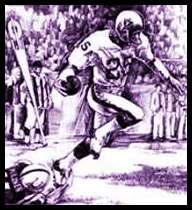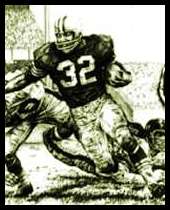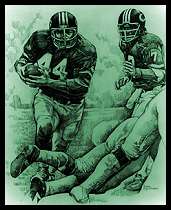 Then there are the holy places where gridiron ghosts have grunted and bled throughout the decades:
Soldier Field, Three Rivers Stadium, the Orange Bowl, Veteranís Stadium, Candlestick Park and the
Superdome. And the most holy of holies to which many a fan makes a pilgrimage is Canton, Ohio.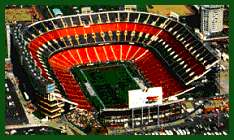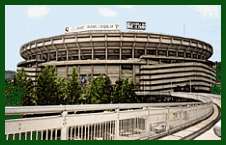 MILE HIGH STADIUM AND THREE RIVERS STADIUM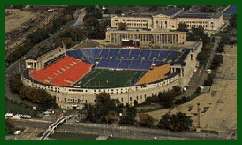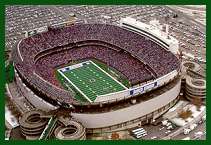 SOLDIER FIELD AND GIANTS STADIUM
Every July when the intensity of summer reaches its zenith can be heard across the land the grunts of training
camp opening as thousands of gridiron gladiators begin their first few sluggish steps toward their ultimate
goal - the Super Bowl. It is that time of year when hope and anticipation clothe the hearts and souls of many a
fan like myself. It has been a long offseason and weíve whet our appetites on Aprilís college draft, free
agency signings and the various offseason trades.
Opening day finds us glued to our TV sets as we tune into ESPNís extended NFL coverage, our hearts
hanging of every word, every interview, every preseason forecast. Then the games start accompanied by
thousands of cheers laced with swills of cold beer and good-natured cussing. Dare not disturb the fan in his
boisterous revelry for to do so is paramount to sacrilege. Yes, phones may go unanswered, chores
undone, and garbage not taken out, but this is pro football and the show canít be beat.
Which brings me to now to the beginning of February. The Super Bowl has been played and the NFL
season ended with the crowning of yet another world champion. It doesnít matter if oneís team won the
Super Bowl, for now begins the long offseason when any scraps of football news are chewed on, dissected and
digested many times over for the fan is in need of his fix. And again I must wrestle with that question that has
plagued me countless offseasons in the past: ďIs there life after pro football?Ē