PAUL LANDIS DELAUNE 1955-2003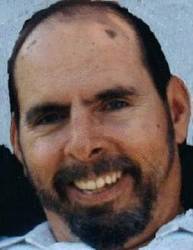 Paul Landis Delaune, Jr., 48, died unexpectedly last Tuesday night at his home in West Palm Beach.

Paul was born in West Palm Beach on February 18, 1955, to Paul, Sr. and Shirley. He was the oldest of three boys. Paul graduated from Ft. Pierce Central High School and went on to earn an Associate of Arts degree from Indian River Community College, a Bachelor's Degree in Political Science from the University of Florida and a Master's Degree in Social Work Administration from Florida State University. Although he was therefore both a Gator and a Seminole, his heart belonged to his beloved Miami Dolphins, who he supported faithfully through thick and thin.

Paul returned to the 'home of his soul', West Palm Beach, in 1993. He was a longtime member and Past President of the Board of Directors of the Center/Coalition for Independent Living Options of Palm Beach County. He was a thirty-year member of the First United Methodist Church of Port St. Lucie and had most recently found a spiritual home and family in the Consider the Lilies Interfaith Community of West Palm Beach. Although he loved and was loved, he never chose to marry.

Paul is preceded in death by his father, Paul, Sr., and is survived by his mother, Shirley, brother Dave, sister-in-law Audrey, and nephews Kyle and Cody of Ft. Pierce, brother Rob, sister-in-law Susie, and niece Olivia Grace of Key West, and many, many friends and members of his spiritual family.

But these facts don't begin to tell the story of Paul's life, which serves as an inspiration to all who knew him. Against all odds, and through his own courage, determination, and faith, Paul lived a full and independent life. By
continuously and courageously facing and overcoming unimaginable adversity and fear, Paul was transformed into a pure spirit. He was a friend to all, and was loved by many.

We love you, Paul, and we miss you, and we know you are dancing now.

In lieu of flowers, memorial donations may be made to the Indian River Community College Foundation in Ft. Pierce or to the Center/Coalition for Independent Living Options in West Palm Beach.

Funeral services for Paul will be held at the First United Methodist Church of Port St. Lucie on Tuesday morning at 10 a.m. with Rev. Taylor Stevens of Consider the Lilies Interfaith Community officiating. Interment at All Saints
Cemetery in Jensen Beach will follow.