---

Spiritual Football
Written by Paul Landis Delaune

Only the moon, three-quarters full, brightly shining and one of the
famous Goodyear blimps were visible overhead in the black sky.
On the far end of the field, Dan Marino calmly took the snap from center and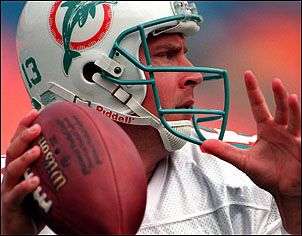 knelt down in the turf as the seconds ticked off to end the game in
which the Miami Dolphins were victorious over the New Orleans Saints by
the score of 30-10. It was a superb performance by Marino who became
the only NFL quarterback to throw 400 or more touchdowns in his career.
The game was important to me because it was my first time attending a
Dolphins-game and I was ecstatic. For me, it was like a religious
pilgrimage to Mecca.
When I was growing up, I enjoyed playing football. I never played
on a formal, organized team, just during physical education class at
school or when a bunch us in my neighborhood got together a game. I
didn't have the self-confidence to play a skilled position, so I didn't
want to handle the ball. However, I did enjoy playing on both the
offensive and defensive lines. I was a big kid who enjoyed hitting
other guys with my body and being hit in return. Sometimes I knocked
the other guy on his butt, sometimes he knocked me on my butt and
sometimes neither one of us got knocked on his butt. It was all fun,
win or lose.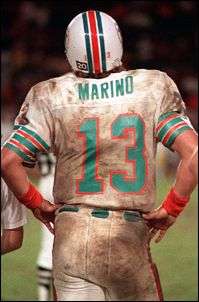 After breaking my neck and becoming paralyzed left me unable to
play football, I decided to pick a team to be a fan of and watch on TV
while cheering them on. I didn't know which college team to go with
cause there were so many of them, but at the time, 1972, there was only
one NFL team in Florida—the Miami Dolphins—so I chose them. My Uncle
Dick was a fan of the Dolphins already and we were close, so that made
it more fun.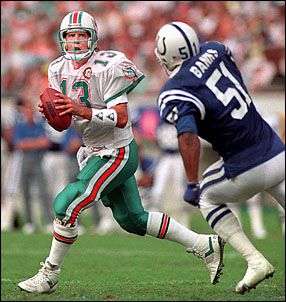 Well, 1972 turned out to be a special year in pro football. It was
the season in which the Miami Dolphins won every game in the regular
season, then went on to win Super Bowl VII. It was a performance
unparalleled in professional sports of any kind. I was hooked and I
became a true fan. To tell you the truth, I didn't know much about
football back then and almost all that I have learned about it has come
by watching it on TV or reading about it in the sports page and in
magazines.
Pro football and the Miami Dolphins quickly became my religion.
That statement has raised some eyebrows or made people laugh, but my
family and friends know how much pleasure I get out of it. For several
years, watching football was my only true joy in life. My paralysis was
a heavy burden and the Miami Dolphins gave me something to look forward
to from week to week and year to year. A loss by the Dolphins would
devastate me and after one bitter loss I contemplated selling my TV and
giving up football altogether.
Now it's been over 25 years and I'm still a fan of the Dolphins,
only now I'm not obsessed with it. Losses still bother me, but
afterward I turn my attention to something else and realize for me, a
fan, it's only a game. Though I've developed a deeper spirituality and
a spiritual perspective of life, I still consider Miami Dolphins
football my religion.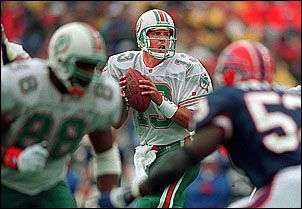 One morning while my aide was getting me up, we were having one of
our usual discussions that cover anything from football to movies & TV
to religion & spirituality. The word "enthusiasm" came up and I
mentioned to him that the literal meaning of "enthusiasm" is "in God."
To which, he asked, "You mean, when John Madden gets all excited and
enthusiastic about football that he's 'in God?'" I replied it did and
we both laughed, but it gave us something to think about.
Now football isn't the only thing I'm now enthusiastic about. I'm
enthusiastic about life, even if I only sit at my desk all day, which I
do often. I love life. I love where I live and I love the people who
are in my life. I love my activities. I'm enthusiastic about them,
because in everything I do I am "in God." Especially when I watch the
Miami Dolphins play football.